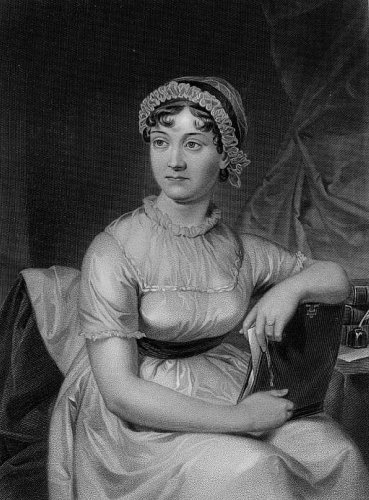 Years ago, seeing an ad in the paper and starved for the company of fellow Austen lovers, I attended a Jane Austen Society meeting: a group of intense, mostly white-haired ladies sat around a library table drinking tea (and what bad tea!) and earnestly read aloud a play based on one of Austen's works. It wasn't what I expected. Though one lovely middle-aged woman introduced herself and chatted with me about her favorite writer, Penelope Lively, whom I subsequently read and loved, the fan group bored me.
Now, of course, that I live in exile outside of JASNA territory (there is no JASNA here), I delude myself into thinking I'd enjoy it. Then I remember reading aloud the play and waiting for the moment when I could gracefully escape. But many years after this puzzling experience, I find I
would
like to transform myself into a Janeite and attend one of the national meetings, or even
The Jane Austen Festival in Louisville
on July 18. It's been a few years since I've attended a literary conference or festival of any kind, and I'm very, very curious about the kinds of fun-loving Janeites who attend the Louisville festival to watch a Regency Fashion Show, study Period Sewing Techniques, and dance at a Jane Austen ball. (My husband says he won't be my ball partner, so my dance card won't be full...it will be non-existent.)
Alas, there's not enough time to immerse myself in Jane Austen's world. I've been following the discussion board at
The Republic of Pemberley
, a Janeites site, and I don't know much of the trivia about the minor characters, though I've just finished
Sense and Sensibility
. I'd love to be one of these people who know every stroke of Jane's pen! Really! But, as Carol Shields writes in her brilliant short biography,
Jane Austen: A Life
(one of the Penguin Lives series), "This detailing of Austen's minor characters - what they ate for breakfast, how much income they've settled on their daughters, the precise hour of a ruined picnic - has never been a part of my own impressionistic response to her work, and I worry, but only a little, about what this says of me, her devoted reader."
My relationship with Jane has been long and inspirational, but never obsessive.
"Some people read nothing but Jane," a professor told me long ago. Though I was a fan , I couldn't believe this. How shocking! How could people read nothing but six short books? How naive I was! I liked everything from Virginia Woolf to George Eliot to Samuel Beckett to
The Medea
to Agatha Christie...but of course
Pride and Prejudice
was my favorite.
But there is something fascinating about obsession. When I read the Austen blogs, the popularity of Austen sequels begins to make sense. When you've catalogued every bit of data about every character in Jane, where do you go? It's perfectly natural to want to read the humorous
Confessions of a Jane Austen Addict
or a more straightforward sequel like
Mrs. Darcy's Dilemma
or
The Mansfield Papers
.
But I'm still on the original books. I did, however, make time for Rudyard Kipling's short story, "The Janeites," a charming story about a lodge member who recalls his intiation into the pleasures of Austen's novels by a witty group of soldiers as a shell-shocked officer-turned-mess-waiter in World War I.
From "The Janeites":
"Real!" Humberstall's voice rose almost to a treble. "Jane? Why, she was a little old maid 'oo'd written 'alf a dozen books about a hundred years ago. 'Twasn't as if there were anythin' to 'em, either. I know. I had to read 'em. They weren't adventurous, nor smutty, nor what you'd call even interestin' - all about girls o' seventeen (they began young then, I tell you), not certain 'oom they'd like to marry; an' their dances 'an' card-parties an' picnics, and their young blokes goin' off to London on 'orseback for 'air-cuts an' shaves...."
I'm not sure this story is online, but it's available in many collections of Kipling's short stories.
And if anyone has any Austen sequels, biographies, or reference books to recommend, let me know. There are so many...