"The past is a foreign country: they do things differently there."
That memorable opening from the brilliant novel,
The Go-Between
, was my introduction to L. P. Hartley's lyrical, exquisite prose. Julie Christie and Alan Bates, who starred in the film adaptation by Harold Pinter, decorated the cover of my old Penguin (found in a musty bookstore and lost somewhere in the house). Years elapsed without my reading more Hartley: book-buying was different in pre-internet days. Happily, Hartley is in print again. NYBR has reprinted the
Eustace and Hilda
trilogy. And Capuchin Classics has reissued another gorgeous Hartley novel,
The Hireling
, an elegant, disturbing, complex, psychological masterpiece which examines class barriers, isolation, and sublimated desires.
One of the most striking aspects of
The Hireling
is the number of scenes which take place in a car, where the relationship develops between Leadbitter, a bitter ex-solider who makes his living as an independent hire-car driver, and Lady Franklin, a fragile young woman recovering from a breakdown after her husband's death. This tale of a driver and a lady is vaguely, slyly reminiscent of
Lady Chatterley's Lover
, though Hartley's ex-soldier, Leadbitter, is a sexless mercenary, and Lady Franklin is an ingenuous, sexless widow.
Lady Franklin, obsessively, excessively grieving for months because her husband died while she was enjoying herserlf at a party, hires Leadbitter to drive her to various cathedrals (as a homage to her husband, who loved architecture). During their first meeting, she pushes class boundaries by sitting in the front seat, which slightly irritates Leadbitter . And, as often happens in such situations with strangers, she finds herself confiding in Leadbitter rather than a friend, focusing on her depression, guilt, and solitude since her husband's death.
Leadbitter, who dislikes women, is not overly moved. But when Lady Franklin, attempting to keep the conversation going, asks him about his life, he makes up a story about his imaginary family, a wife, Frances, who resembles Lady Franklin, and three children.
Both become addicted to these conversations.
And eventually things get out of hand, because Leadbitter blurs the image of the imaginary wife with the real Lady Franklin, after she gives him a large sum of money to solve an imaginary problem. And, ironically, as Lady Franklin begins to withdraw, he believes that that Lady Franklin's interest in him is more than superficial.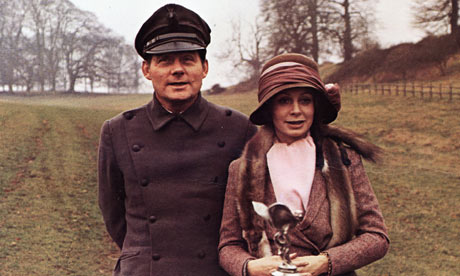 The Hireling
was made into a movie in 1972, starring Sarah miles and Robert Shaw. I'm looking forward to renting it.